If you haven't at least once in your life dreamt about living in a castle, like a real life fairytale prince or princess, I'm guessing you were born royal. However, us regular folks can at least admire the world's beautiful castles from the outside.
I don't remember when my husband's obsessions with castles began, but thanks to it, we've seen a lot of pretty cool places. Some of these castles below require a car to get to, but if you're a fan of castles I guarantee you it's worth it!
Sweden
1. Drottningholm castle
Let's start with the obvious one, since you'll probably fly to Stockholm when visiting Sweden you might as well pop by the Royal Castle. It's actually not the real "original" Royal Castle (which you can find in the city center, but it's damn ugly), but it is where the King and Queen actually lives. This one is simple to get to and you can go there by boat or by train and bus.
2. Vittskövle castle
This one is a bit trickier to get to as it's basically in the middle of nowhere in southern Sweden. However, it's a really beautiful castle! It is privately owned so the only way to get inside is to marry a family member. But the park is free to roam around in.

3. Marsvinsholm castle
Also in the very south of Sweden you'll find this impressive building. The castle is privately owned (not jealous at all) but you can still visit the giant park in front of it. It's possible to get there by bus from Ystad (a small city which you might want to visit after reading my post "where to find Sweden's most colorful houses").

4. Trolle Ljungby Castle
Another privately owned castle with a moat. What does one have to do to get a castle around here?! This castle isn't open for the public, but you can visit the castle gardens every wednesday and saturday from May to August.
5. Sundby castle
Can one really have too many towers? This impressive fairytale castle has some real thought behind the design: the four big towers represents the four seasons, the twelve smaller towers represents the 12 months, the 52 rooms the number of weeks in a year and the 365 windows represent the number of days in a year! The castle is privately owned (yes, seriously) but the castle garden is open to visitors.
Denmark
6. Rosenborg castle
Located in Copenhagen, the capital of Denmark, this castle is a given. It's one of the Royal Castles of Denmark and the easiest to get to. The castle is used as a museum today so it's possible to see this beauty from the inside too.
7. Fredriksholm castle
Definitely one of the coolest castles in Denmark! It's massive, surrounded by a lake and has a huge beautiful garden where you can go for a stroll. It's a real "wow factor" castle, so much that it was even the setting of the movie The Prince and me. Frederiksborg Slot is the largest Renaissance castle in Scandinavia and is home to the Museum of National History of Denmark, meaning you even get to see this cool place on the inside! Inevitably, it is also referred to as the Danish or Scandinavian Versailles.
You can easily get there by taking the bus or train from Copenhagen, and it takes approx. 45 minutes.
8. Fredensborg castle
It might not look as cool as Frediksholm castle, but this place holds a lot of Royal history to this day. You can see some of the inside on a guided tour, but since this castle is still in use as the summer house of the Royal family, some areas are restricted. If you're roadtripping around Denmark by car this castle is close to Fredriksholm, so if you're seeing one you might as well see them both. Otherwise, this castle can be reached by train or bus from Copenhagen.
9. Vallø castle
This red brick castle traces its history back to the 13th century, however after a fire in the 19th century if was almost completely burned down and had to be rebuilt. It now serves as a residence for Vallø stift, a home for unmarried, widowed and divorced women of noble descent.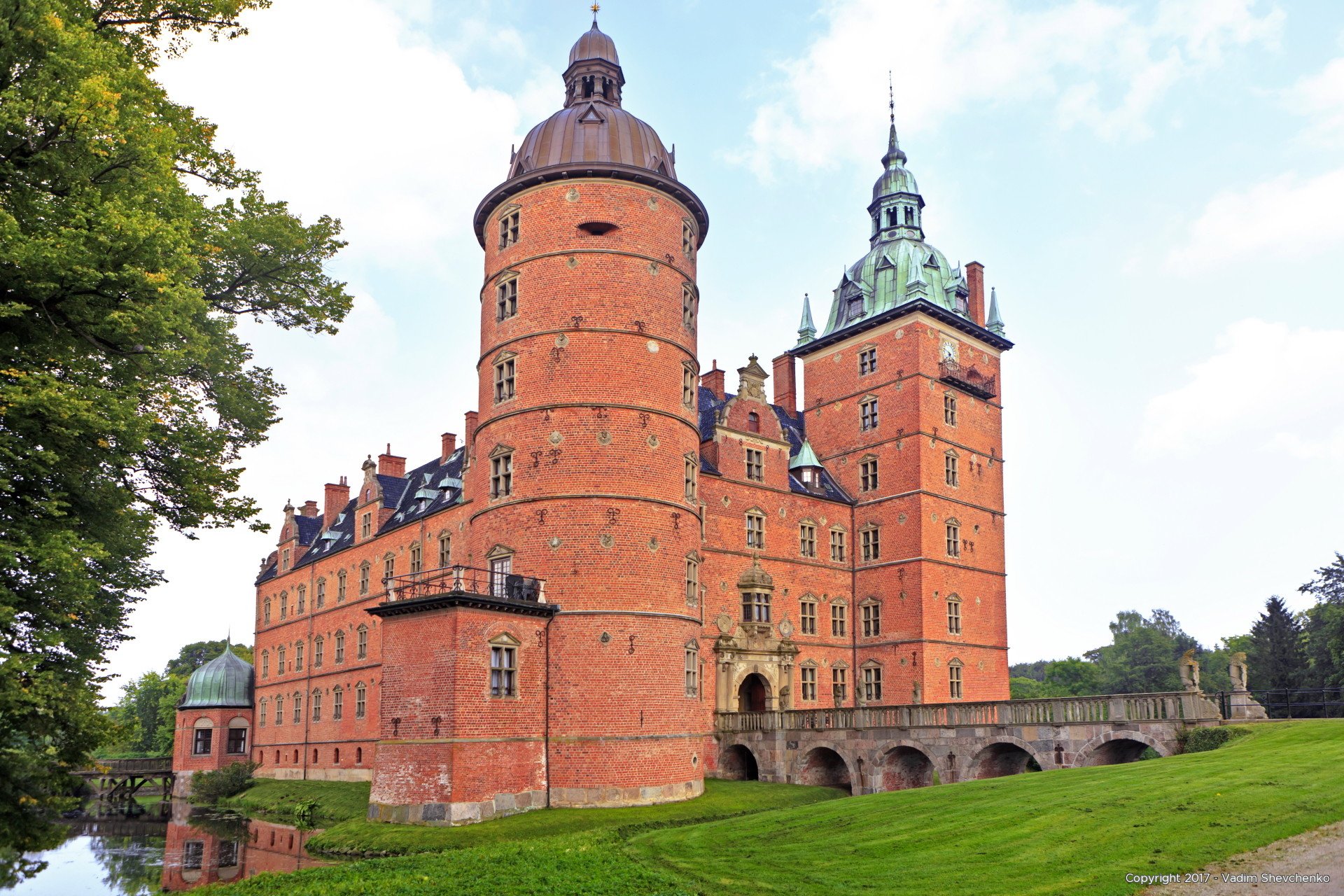 10. Egeskov castle
Another Danish stunner is Egeskov castle, known to be Europe's best kept Renaissance castle with moats, and the castle park has been called "the most beautiful park in Denmark". You can go inside and the castle grounds hold several museums, like a veteran car museum for instance. The castle can be visited between May and September.