Aruba is the true definition of a picture perfect paradise. I'm sure many of you only think of those instagrammable flamingos when thinking of Aruba (I'm looking at you Millenials), but the beautiful tiny island in the Caribbean has a lot more to offer than the birds (although I will include them in this post too).
If you're only skimming through this post to find out how to see the flamingos, don't worry, I've written a post about it here.
Some useful facts about Aruba:
Capital: Oranjestad.
Language: Dutch and Papiamento (don't worry, people speak English there too!)
Currency: Arubian Florin, but American Dollars are accepted pretty much everywhere.
Price range: A one course meal for 2 people including drinks are ~ $30-$60+
Population: ~ 100.000 inhabitants, althought the island gets over 1 million tourists every year.
Size: 178.91 km (69.08 sq mi).
When to go?
There is no best time to visit Aruba  as the weather is consistently warm year-round with a fairly constant temperature of 82°F (28°C). Some shorter rainshowers can occur but it's usually gone within a few minutes. The island tends to be quite crowded during high season and hotels are more expensive so if you're on a budget I'd highly recommend visiting during the low season as Aruba is quite expensive as it is.
High Season: mid-December until mid-April
Low Season: mid-April until mid-December
Where to stay?
As for areas I do recommend Palm Beach for staying as it has a lot of restaurants and a beautiful beach. If you wanna see the flamingos they are only located at the Renaissance Hotel in Oranjestad, but a one night stay at the hotel costs around $400 and even though Oranjestad is nice to visit, I wouldn't recommend staying there.
Aruba is packed with luxury hotels but there are a few less pricey hotels if you're on a budget (like The Mill were I stayed). They're usually not located directly at the beach but some offer free shuttle services if you're not keen on walking.
What to do?
Since Aruba is a small island, getting around it is easy and fast. The best way to see it all is to rent a car, which will take you to almost all locations below.
1. Explore the capital, Oranjestad
Oranjestad has some of the cutest and most colourful buildings in Aruba and it felt just like Disneyland walking around there. The town is pretty dead by night so I do recommend you take stroll during the day – and bring lots of water!
Royal plaza mall
2. Feel the energy at Alto Vista Chapel
The cute chapel is located on the north shore of Aruba and dates back to 1750. The winding road that leads to the chapel is beautiful and since the chapel is located on a hill, there's a spectacular sea view waiting for you when you reach it. Take a little stroll in the surroundings while you're there.
3. Enjoy the views from California Lighthouse
The lighthouse was built between 1914 and 1916. It was named after the steamship California which was wrecked nearby in 1891. You can pay a small fee to enter the lighthouse and enjoy the magnificent view from the top.
4. Get blown away at Baby beach
This hidden gem is a located in south east part of the island and is home to shallow crystal clear water. Be aware though, that it's extremely windy there.
5. Join the crowd at Eagle beach
One of the most beautiful beaches in Aruba, it's super wide and the water is perfect. Do note that since it's one of the most famous beaches in Aruba it might get a little crowded during high season. But it's still something you have to visit!
6. Explore Palm beach
Palm beach is much more than just a beach (even though it's beautiful!), it's also a little city center with super cute colourful buildings and lots of restaurants. Yes, it's touristy.
7. Feed the flamingos
Okay, let's talk about the flamingo in the room. Or as I like to call them – giraffe birds. As I mentioned before you can only see these creatures at the Renaissance Hotel, as they are only on the hotel island. There is no way you can get there without a day pass ($125 per person) or a valid hotel key card. They only sell day tickets (about 30 of them) if the hotel is not more than 80% booked, so if you want to get your hands on one of them you have to call the hotel the night before to ask if they sell tickets. If they say yes, get there at 5am the next morning and start queueing. If you want the full details on the private flamingo island, you can check out my post on how to see them and what else to do on the private island.
The flamingos walk around freely on the beach and they do get quite close, specially if you have food (you can buy it in a machine on the beach for 25 cents). Be careful though because they might bite. You might have to wait for your turn to take those instagram worthy shots as you will definetly not be alone on the beach, but I was actually surprised by how few people were there.
Kids are only allowed on the flamingo beach during one hour in the morning so afternoons are usually best for taking the photos. Use the rest of the time to explore the little island or chill in a private cabana (for about $200).
8. See the carnival
Every Thursday is Carnival night, and it's located in Oranjestad. Sadly I was too lazy to get my ass from Palm Beach to the city to see it, but I heard it was amazing and the drinks were free…
9. Arikok National Park
As I said you can access most places on the island with a rented car. Arikok National Park is not really one of them, of course depending on which car you rent (we learned this the hard way). For this specific location it's better to go on a Jeep tour to be able to see it. If you decide to go by yourself do note that there's a fee of $11 per person to enter the park.
10. Visit the Donkey Sanctuary
Get ready for cuteness overload! The donkey sanctuary is a non-profit, volunteer-run organization with a mission to save the donkeys on Aruba. Here you can help with daily chores of feeding and caring for the donkeys or simply watch them being cute.
11. Dive into a whole new world
If you're a fan of diving you have to go on a diving tour in Aruba as it has some of the world's best snorkeling. There's even a ship wreck (SS Antilla) you can explore! As I myself is not a fan of anything living below the surface I can't personally recommend any tours.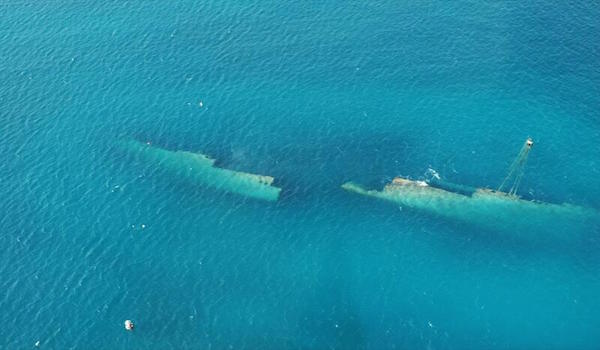 Photo: Bookyourdive.com
12. Endulge in the best Dutch pancakes in town
When visiting Oranjestad make sure you stop by the dutch pancake house which has the most amazing toppings. I personally made several stops there…
Summary:
As you could probably tell from the photos – Aruba is adorable! BUT, I do want to emphasize that you should not expect an authentic and untouched island. The capital and the tourist areas are filled with casinos and American fast food chains. They accept American Dollars everywhere and the majority of tourists are American. That beeing said, for me Aruba felt a bit like Las Vegas meets Hollywood.
I do still recommend a visit to Aruba, just know what to expect.