If you're looking for the best and prettiest photo spots in Stockholm, this is the post for you. May it be for those perfect instagram shots or just for actually enjoying the beautiful city (and the coolest subway art), you'll definitely wanna see these places.
Central Stockholm (Vasastan and Gamla stan)
1. Stortorget
2. Riddarholmen
3. City hall
4. Gamla stan (old town)
Yes, this one is quite generic, but listing every single street in gamla stan would just take too long! Because honestly, your mind will be blown by this entire area and every street is so cute and photogenic.
5. Mårten Trotzigs alley
Located in the heart of Gamla stan you will find the narrowest street in Stockholm – only 90cm!
6. Medelhavsmuséet ( Mediterranean  museum )
7. Gustav III:s antikmuseum ( Gustav the third's antique museum )
Located in the royal castle you'll find this hidden gem!
8. Kungsträdgården
Definitely a must see during spring and summer!
9. Stadsbiblioteket ( city library )

Eastern Stockholm (Östermalm and Djurgården)
10. Jungfrugatan
11. Danderydsgatan
Stockholm's version of Notting hill.
12. Djurgården
The biggest park in one of the fanciest areas in Stockholm.
13. Strandvägen
One of the most expensive streets in Stockholm is also a great spot for dreamy shots!
14. Brunkebergstunneln
The coolest futuristic tunnel connecting central and eastern Stockholm!
Southern Stockholm (Södermalm)
15. Svartensgatan
16. Katarina kyrka
17. Fiskargatan
18. Monteliusvägen
Subway art (+ commuter art)
When in Stockholm do not miss the world's longest art exhibit (110 kilometers long!). Over 90 of the 100 subway stations in Stockholm are decorated with mosaics, sculptures and paintings by over 150 artists. Here's the most popular ones:
19. Stadion
20. Mörby centrum
21. Odenplan commuter train station
23. T-centralen

24. Kungsträdgården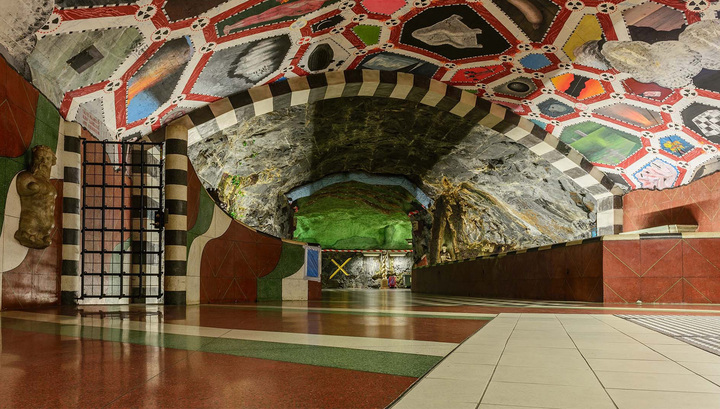 25. Rådhuset
Outside Stockholm
26. Drottningholm castle and China castle
Yes, there is a castle in Gamla stan which is called the Royal Castle, but it's actually not where the Royal family lives. The King and Queen live at Drottningholm on Ekerö island a short boat ride (you can take the subway + bus too but I highly recommend taking the boat) from central Stockholm. If you have time I recommend you go there because the castle and it's huge garden is beautiful, and it has some hidden gems too like the China castle. The prime time to visit is of course during the warmer months but don't discard it even if you're visiting during winter time.
27. Sigtuna
Where Sweden begins! Sigtuna was founded in 970 and was the first city in Sweden at the time. Walking around in the city is like being in the middle ages, there's even some marks left from the Vikings! If you go there by car don't miss the surrounding castles. Every season is the best time to visit and during christmas there's even a big cosy market on the main street.
28. Vaxholm
The Stockholm archipelago consists of over 30.000 islands and Vaxholm is one of the most famous ones. Visiting the island is like traveling in time, it's just the cutest island you'll ever see!
Summer time is obviously the best time to visit the island.
29. Skogskyrkogården
The woodland cemetery is a Unesco World Heritage site, and for a good reason!