Beautiful Kyoto – many traveler's dream destination, and not hard to see why! Kyoto has so much to offer and you could easily spend 5 days there and still feel like there's more to see and do! I've listed the top attractions that you definetly cannot miss when visiting Kyoto.
Be aware that Google maps does not work that well in Japan, so before your visit, make sure you download the app maps.me which works perfectly.
Day 1
Fushimi Inari Shrine
Let's start off our Kyoto series with one of the most popular sights. The Fushimi Inari Shrine is originally mostly famous for its appearance in The memoirs of a Geisha, but nowadays you're most likely to have seen this gorgeous shrine on your Instagram feed. If you want to get that perfect empty insta shot, be prepared to get here very early, or to wait for a long time. The good news is – this place is open 24/7 and it's free!
Kiyomizudera Temple
Kiyomizudera Temple is one of the most important and oldest historic monuments in Japan built in 780. The temple is especially popular in autumn, and a light-up is held during autumn leaves season. Just be aware that the main temple is under construction from February 2017 to March 2020, during which the hall is covered up by scaffolding, but visitors are able to enter it. As of January 2020, the dismantling of the scaffolding has started, and the main hall is gradually becoming visible again.
Participate in a traditional tea ceremony
Japan is well known for its traditional tea ceremonies and it's for sure nothing you should miss when visiting. Kyoto is known for its matcha green tea and you can easily find matcha flavoured cake and ice cream and drinks all over the city. If you wanna try a traditional tea ceremony it is always better to pre-book but not necessary. Here you'll find a list of the best tea ceremony experiences in Kyoto.
Day 2
Togetsukyo Bridge in Arashiyama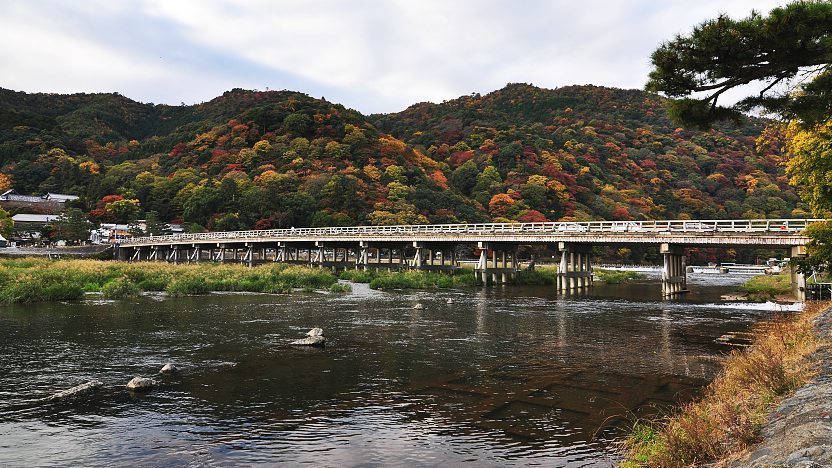 Arashiyama is a touristic area outside of Kyoto City, only 20-30 mins from Kyoto Station by train or bus. Most people come here to see the Bamboo Grove, but to get there you'll have to cross the Togetsukyo Bridge, meaning you'll spill no precious time by seeing this beauty. The bridge is a symbol of the Heian Period (794–1185).
Arashiyama Bamboo Grove
Another famous spot in Kyoto is the main Bamboo Grove. It's one of the most popular photo spots in Kyoto, and if you want that empty insta shot, get here early (no later than 8). Just be prepared that the Grove is not as big as it might seem, it's basically what you see is what you get when looking at the photos of it.
Adashino Nenbutsuji Bamboo Grove
Did you know that there's another bamboo grove in Arashiyama? What's even better is – not many people know about it so you'll be likely to have it all to yourself! Unlike the famous one, this one is not free to visit as it is located within the Adashino Nenbutsuji temple. Good news is, the entrance is only 500 Yen! You'll have to walk a fair bit to get there, and it is slightly hard to see the temple entrance as it's a bit hidden, but well worth it. On the way there you'll walk through some of the richest and fanciest areas in Kyoto and it's really nice to take a stroll through that pretty area.
Sagano railway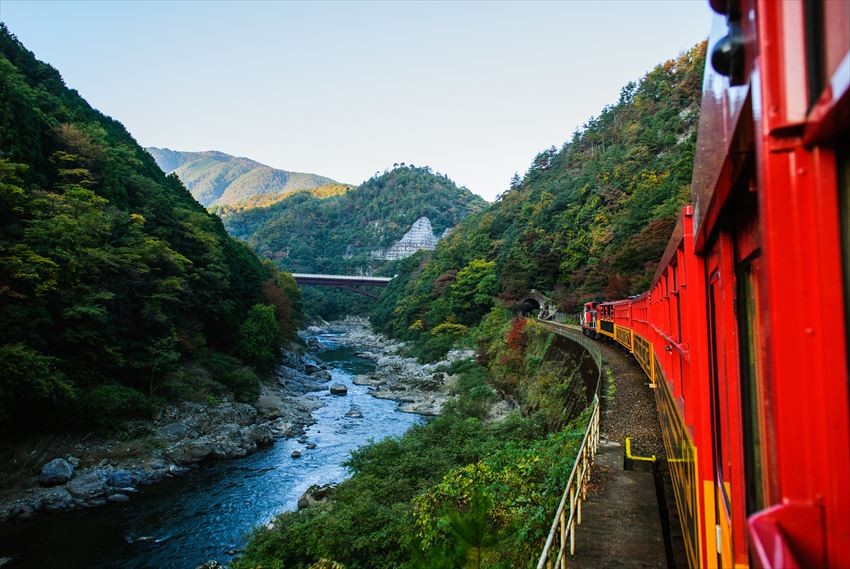 Who wouln't wanna go on a romantic train ride through beautiful nature? As you might understand, this train gets full very fast, so make sure you pre-book your tickets to save yourself a spot!
Tenryuji Temple
Tenryuji Temple is the most important temple in Arashiyama, and it will be hard to miss as it's located in the city center. It was ranked first among the city's five great Zen temples, and is now registered as a world heritage site. The temple was built in 1339, but was unfortunately lost in a fire and later rebuilt, however, what many people really come here for is the beautiful garden, which is perfectly preserved. The temple is also known for the astonishing Japanese art work, The Cloud Dragon on the ceiling of the Hatto hall.
Day 3
Yasaka Pagoda
Yasaka Pagoda is located at Hokanji Temple in the Higashiyama District in eastern Kyoto City. It's the famous landmark of the district and one of the most photographed place in Kyoto. You can also enter inside the pagoda too if you want to. As with every other instagrammable spot – if you want an empty shot here make sure you get here really early, around 7. We went here around 1 in the afternoon and it was crazy crowded. Getting the shot you see above took a lot of patience and luck, and we had to wait for maybe 20-30 minutes for the crowds to clear a bit.
Gion
Gion is a district which used to serve as the entertainment district, and best known as home to Geisha/Maiko dancers, and it's not unusual to still see one wandering around. If you want to see a Geisha show, make sure you book in advance as they tend to sell out quickly.
Kodajii temple
Kodaiji temple dates back to 1606 and does not only house a beautiful temple, you'll also find yet another bamboo forest in the temple gardens.
Yasaka shrine
Yasaka Shrine is one of the most famous shrines in Kyoto. It was built over 1350 years ago and is located between the Gion District and Higashiyama District, and is often visited by tourists walking between the two districts. Inside you'll find a dance stage with hundreds of lanterns that get lit in the evenings.
Day 4
Nara deer park
Who hasn't seen the adorable polite deers walking around freely and posing for selfies with the tourists?  Nara is so much more than just the massive deer park but let's be honest, that is probably why most people go there. Japan's first permanent capital was established in the year 710 at Heijo, the city now known as Nara and allover the city you'll find these roaming deers, so it's hard to miss them.
Tip!
All over the park you can buy a special kind of deer cookie to feed them with, but please be aware that the deers can bite (they did bite me) and that they will run after you until you give them all your cookies, so make sure you hide them in your bag immediately after purchasing them and carefully take one out at the time to feed them. Show them your empty hands after you give them the cookie so that they stop harrassing you for more (yes, it works!).
How to get there
To get to Nara, just take Kintetsu Railway from Kyoto Station. The journey to Nara from Kyoto will take between 35-50 minutes depending on whether you hop on the limited express or rapid express train.
Todaiji Temple
A short walk from the center of Nara, in Nara Park, you'll find Todaiji Temple. It is a complex of buildings that includes the world's largest wooden structure, the 48m high Daibutsu-den, built in 743 which houses the 15m gilt bronze Great Buddha, the largest of its kind in the world. Once you enter the temple grounds and buy your ticket, you'll find some locals offer a free guided tour of the temple grounds. Take it. It takes only 20 minutes and it's well invested time.
Isuien garden
Isuien garden is a  Japanese garden, meaning "garden founded on water". It's a calm and quiet oasis to rest after a busy day in the Nara crowds and it really resembles The Shire from Lord of the rings.
Day 5
Kinkaku-ji  and Ginkakuji Temple
Kinkaku-ji Temple a.k.a. the Golden Pavilion stands there since 1397 and is one of Kyoto's most visited temples. If you're still not tired of temples after viewing this one, head over to it's twin temple, the Ginkakuji Temple, also known as the Silver Pavilion as it was modeled after Kinkakuji Temple (the Golden Pavilion). The silver one is not as impressive as the gold one so if you got time and energy left to see one, opt for the Golden Pavilion.
Daigoji Temple
A bit outside central Kyoto you'll find Daigoji Temple and its beautiful Japanese garden, a very popular spot for photographers during autumn, but (almost) just as pretty any time of the year. The most famous spot here is Bentendo Hall, as seen above.